---
Regional Food Hub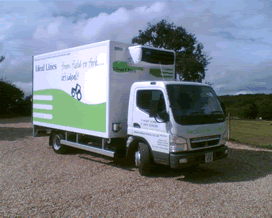 The Regional Food Hub offers smaller producers a service whereby their distribution operations are managed by Ideal Lincs Ltd. We work co-operatively with the producer who, in many cases maintain their own customer relationships, whilst we provide them with a least cost distribution solution to fulfill their customers' requirements. In some instances we manage suppliers' administration, distribution & marketing. This enables smaller producers to concentrate on maintaining the highest standards of production, without the worry of repeat order management. Part of our specialised administration offers smaller producers access to orders over EDI without the expenses of establishing their own EDI link with the major retailers. We also assist producers with range proposals, obtaining product listings with retailers and can consult with them on packaging and labelling issues, which is all part of our "preparing products for retail" service.
Please contact us if your business could benefit from using our hub services or you have a local product which deserves to be receiving more attention from local & national consumers.
The Ideal Lincs fleet comprises of 4 x Mercedes Sprinter 3.5t GVW refrigerated panel van (1 tonne payload), 1 x Ford Transit 3.5t panel van (1.4 tonne payload) and a Mini Cooper van for urgent deliveries!
---
Ideal Lincs Ltd Terms and Conditions for the Carriage of Goods by Road in the United Kingdom 2006
---
Ideal Lincs Ltd
Grange Offices
Girsby Grange Farm
Burgh on Bain
Market Rasen
LN8 6LA
T: 01507313855

e:enquiry@ideal-lincs.co.uk
Ideal Lincs - Local food & drink, for local customers, from local producers.