Fresh, local, just in time
---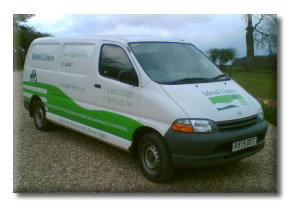 The first van

How Ideal Lincs became the leading local wholesaler of the region's food & drink.
Ideal Lincs was established in 2004 by Paul Davey who began supplying potatoes and onions grown on the family farm to chip shops, pubs, local restaurants and takeaways in "the first van." It was a family operation, his brother Edward and his team grew it and harvested it, and Paul's team stored it, graded it, packed it and sold it. Most of the farm's produce was sold through the national wholesale markets network and other wholesalers. Ideal Lincs was helped in its early days by Viv Forbes of Business Link Humber who organised a business course for a group of local farmers run by a marketeer called John O' Connor. His matrix techniques inspired the group members to think totally differently about their businesses. Viv also introduced us to George Hamilton of "Growing Routes," the business incubator fund from Yorkshire Agriculture Society, who arranged for Ideal Lincs to receive a £5000 grant from the scheme. George supported us and believed that our South Humberside Onions and other local produce should be used by more and more local food outlets.
The nature of the produce naturally directed the sales towards ethnic restaurants and takeaways, mainly, but not exclusively Indian and Bengali food outlets. These businesses were incredibly price sensitive purchasers, and we only remained competitive when our produce was in season. Margins were difficult to achieve once we were dealing with produce which was out of UK season. Of course the menus never changed, and the same produce was needed whether it was in season or out of season. Richard and I worked night and day responding to customer requests to deliver a larger and larger range of produce, and within a year we had 42 customers in this sector, although our objective of delivering locally produced food for 52 weeks of the year was compromised by our need to move seasonally into imported produce to meet our customers demands. It was not unusual to find us in Hull or Sheffield wholesale market at 6am and delivering into an Indian restaurant in Cleethorpes at 11pm. Ideal Lincs was starting to look less than idealistic as we traded Spanish onions and Dutch cucumbers. During this time we were fortunate to start supplying some farm shops, these customers frequently asked us "what else we could supply them with" and were instrumental in building the range of locally produced speciality brands we offer. Hazel Hammond, from the award winning Sunnyside Up Farm Shop near Market Rasen, deserves particular credit for inspiring us to think differently about what we supplied.
A meeting organised by Dave Lofts of the North Lincolnshire Food Partnership in March 2006 at The Pink Pig Farm Shop at Holme near Scunthorpe, resulted in us finding common interests in locally sourced foods from what at the time seemed an unlikely source, but resulted in further meetings at ASDA House in Leeds. We discovered a network of like minded businesses supplying ASDA stores throughout the country with locally sourced speciality foods. In August 2006 Ideal Lincs became the 10th ASDA Food Hub and the business found itself trading more of the locally produced items which had been added to the range and really appealled to the multiple retailers, but fewer of the salads, fruit and vegetables. The volumes of the local speciality foods really began to increase, and it became increasingly difficult to supply the restaurants and takeaways as this activity took place most evenings and the resources weren't in place to continue with it. During this time the family farm also changed its business and stopped growing onions.
As an ambassador for Select Lincolnshire, Paul was asked to speak about the ASDA Hub operation at the 2007 Select Lincolnshire conference. It was extremely fortuitous that the presentation was attended by Lincolnshire Cooperative who were developing their Local Choice range with the team from Select Lincolnshire. The Local Choice offering was launched on Lincolnshire Day, the 1st October 2008 at the Welton Lincolnshire Cooperative Foodstore and Ideal Lincs was delighted to have been chosen to supply a proportion of the Local Choice range. Since we started working with Lincolnshire Cooperative, Ideal Lincs has increased the number of deliveries and destinations per week. We now supply over 50 products in the Love Local range, specialising in fresh and chilled foods, into 88 food stores and garage forecourts twice a week.
With the support of its customers and the fantastic food it delivers from its suppliers, Ideal Lincs continues to grow its customer base and increase its service levels. In November 2010 with the help of Select Lincolnshire we successfully launched a range of 26 products into Sainsburys. We are extremely proud of the products we supply and we consider that each customer and each store has its own specific requirements. We try and make sure that each customer has something different to sell. Perhaps the only criticism we have to shoulder is levelled at us by some of our Deli & Farm Shop customers who consider that we have made many of the specialist products from our producers appear more mainstream and less niche now. We see this as part of the product life cycle. If Lincolnshire is to be seen as the food basket of Britain and it is going to keep incubating successful small producers, it is critical that these producers have a business environment where there are opportunities for them to be successful. This does not mean that Ideal Lincs is working any less hard for smaller producers or their smaller customers, and we have recently employed new staff to concentrate on bringing new exciting products from new suppliers to our smaller speciality fine foods customers. Just keep telling us what you are looking for and keep asking us: "what else can Ideal Lincs supply to you?"
Friendships and business relationships forged during the early period of Ideal Lincs existence continue to this day. For instance one of our regular customers for onions was Mafazul Huda who ran the successful Surma Restaurant in Barton on Humber with his family. In 2005 he told us of his ambition to create authentic curry base pastes superior in quality and authenticity to the existing offerings. By 2007 Ideal Lincs was supplying ASDA with Mr Huda's Surma Secrets, a stunning range of curry base pastes. We are pleased to call Maf our friend and we're delighted to have been been able to help him achieve his ambition of making Surma Secrets a full time business in Scunthorpe which supplies ASDA, Lincolnshire Co-operative and Sainsburys as well as supplying his own independent and public sector customers.
---
Ideal Lincs
Managing Directors: Paul & Emma Davey
Procurement & Logistics Manager: Lisa Garbutt
Business development: Angela Stewart
Warehouse & Deliveries: Graham Streatfield
Warehouse & Deliveries: Alex Philipson
Warehouse & Deliveries: Eugene Boksberger
Warehouse & Deliveries: Richard Burr
Ideal Lincs Ltd
Grange Offices
Girsby Grange Farm
Burgh on Bain
Market Rasen
LN8 6LA
T: 01507313855

e:info@ideal-lincs.co.uk
Ideal Lincs - Local food & drink, for local customers, from local producers.