Fresh, local, just in time
---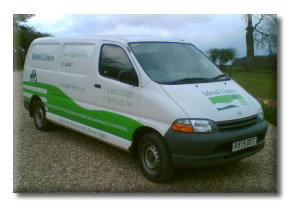 Our first van
Our team
Managing Directors: Emma & Paul Davey
Business development: Angela Stewart
Orders, warehouse & deliveries: Alex Philipson
Warehouse & Deliveries: Graham Streatfield, Julian Brewitt, Alan Irving, Richard Brooks
---
What we do....
Ideal Lincs was established in 2004 by Paul Davey, a seventh generation Lincolnshire farmer and food marketing graduate of Newcastle University, who understood the complexities associated with smaller producers attempting to supply larger customers with their craft food and drink products. Lincolnshire is geographically a large county and the more dense areas of population are great distances apart. Reaching their new customers is a significant challenge for small producers just starting out in business. By investing in refrigerated storage, distribution, ecommerce tools and becoming their customer, Ideal Lincs is able to supply larger customers with a multitude of fantatsic Lincolnshire products with one delivery, from one order which only generates one invoice. By using EDi and other electronic communication both the producers and the customers can reduce the burden of their administration and distribution.
---
Our business principles emphasize that the producers and their products are the superstars of the operation, but Ideal Lincs works to propel them to stardom.
---
Our story....
As a child Paul was often found by the potato grader stamping the varieties on the paper sacks and wire tying them. The local trade collected spuds with small four wheeler lorries and unusually at the time his Dad had a pretty smart Ford Transit for delivering to the greengrocers and chippies. 'Riding shotgun' in the Transit was a pretty decent job as it usually involved a drop at a shop where there'd be some goodies shared with the young apprentice. The onions were packed in South Humberside Onions nets and were sent to exotic locations like Gateshead, Leeds, Liverpool, Bradford and Manchester, stacked on pallets, roped and sheeted on a flat bed wagon. The acid test was; if they made the end of the bumpy farm track - they'd make it to Liverpool. It made the Davey kids realise there was a big market for Lincolnshire's produce outside the County. We just had to make sure we played with a straight bat after a run in with the weights and measures man for selling cooking apples at the farm gate without a ministry stamped scale! Quite quickly cooking apples were priced by the half dozen, not by weight.
The bug for direct marketing was caught fairly early on and after graduating and heading back to the farm we concentrated on more spuds 'n' onions heading across the whole country on wagons. The modern day equivalent of Dad's Transit headed out with onions and "Ideal Maris Piper" potatoes (IMPs are a Lincoln thing) to the local chip shops, pubs, restaurants and takeaways in "the first Ideal Lincs van." We also got into supplying some farm shops, who started to ask us "what else we could supply?" They were instrumental in helping us build a larger range of locally produced speciality food and drink. Hazel Hammond, who established the award winning Sunnyside Up Farm Shop near Market Rasen, deserves particular credit for inspiring us to think differently about what we supplied.
At a North Lincolnshire Food Partnership meeting in March 2006 at The Pink Pig Farm Shop at Holme near Scunthorpe, there was a meeting of minds between Ideal Lincs range and ASDA, which resulted in further meetings at ASDA House in Leeds. We discovered a network of like minded businesses supplying ASDA stores throughout the country with locally sourced speciality foods. In August 2006 Ideal Lincs became the 10th ASDA Food Hub and the business found itself trading more of the locally produced items which had been added to the range and really appealled to the multiple retailers, but fewer of the salads, fruit and vegetables. We were going forwards with a much more concentrated focus on Lincolnshire again and relationships with local speciality producers quickly began to increase.
As an ambassador for Select Lincolnshire, Paul was asked to speak about the ASDA Hub operation at the 2007 Select Lincolnshire conference. Lincolnshire Cooperative attended and were developing their Local Choice range with the team from Select Lincolnshire. Our service was an ideal fit with Local Choice which was launched on Lincolnshire Day, the 1st October 2008 at the Welton Lincolnshire Cooperative Foodstore. Ideal Lincs now delivers into 90 stores up to three times per week supplying with over 100 products for the Love Local range. With the support of its customers and the fantastic products from its suppliers, Ideal Lincs continues to grow its customer base and increase its service levels. In November 2010 with the help of Select Lincolnshire we successfully launched a range of products into Sainsburys. We are proud that we continue to influence our important Lincolnshire food heritage by making our region's food and drink more available. Lincolnshire produces 20% of all the nation's food and our mission is to keep supporting and marketing products from successful small producers. Emma joined the business full time after nearly twenty years as a teacher to help manage the business. This has also led to us opening our shop on Steep Hill in Lincoln in November 2019. A Little Bit Of Lincolnshire stocks Lincolnshire products, showcasing them to customers in a part of our city which benefits from a huge number of visitors from around the world. Many visitors comment that it's impossible to believe that our county produces such a wide variety of stunning food, drink and homewares, which is something us Yellowbellies are lucky to be able to take for granted.
Friendships and business relationships forged during the early period of Ideal Lincs continue to this day. One of our regular customers for onions was Maf Huda, who ran the successful Surma Restaurant in Barton on Humber with his family. In 2005 he told us his ambition was to create curry pastes superior in quality and authenticity to the existing offerings. By 2007 Ideal Lincs was supplying ASDA with Mr Huda's Surma Secrets, a truly outstanding range of curry base pastes, also selling now in Lincolnshire Co-op & A Little Bit Of Lincolnshire. We are pleased to call Maf our friend and we're delighted to have been been able to help him achieve his ambition of making Surma Secret Spices a full time business in Scunthorpe. We all look forward to working together for generations.
---